activation / energizing
  
expression; manifestation; creation; realization; reality; dualizing;
breaking of the neutral state of the potential into the state of duality by choosing through imagination/consciousness; acting out of a potential;
  
< Embodiment 7QA > There is a potential of new jobs, new houses. There is a potential of staying stuck. There is a potential of anything you could possibly think of. And, they are YOUR potentials. They don't come from me. They don't come from Tobias. They are your potentials. They are almost like little - we'll call them - pods in love and respect to the ones we work with. We will call them little pods of potential, waiting to be expressed and activated.

Part of the problem is that you have to activate them. We can't do it for you. Nothing is predestined. NOTHING IS PREDESTINED. There are patterns that could lead you to believe that certain things may happen in the future. But, it is up to you to choose those.

What do you want to do? Where do you want to go to? How do you want to live your life? The only clue we'll give you here is to get out of your Old way of thinking. Some of it tends to be fear-based and wondering if things are going to be there for you. Yes, they will be… if you choose them… if you activate that energy.

We're going to be going into this in the next few discussions that we have. But, I want you to spend some time viewing your potentials. Don't just jump out and try to pick one right away. Your potentials are like one of your supermarkets where you can go and choose anything you want… anything you want.

Don't worry about the money to pay for the potential. That comes in. That is always there. And, I know some of you have a hard time believing that. But, it is always there. Whatever potential you pick, what you call money, or the financial energy, automatically comes in and coincides with it. It may not be there in advance. That's part of the fallacy of this whole banking system. It may not be there in advance, but it will coincide the moment you select a potential.

Spend some time feeling all of those potentials around you. They're like little bubbles. I can see them. They're pods of potentials. Feel them… contemplate them… decide what you want for you.

But, don't use fear as your measuring stick. Use blissful creation and imagination. And, then start picking what potentials you want. Allow… when you pick the potential… allow it to continue its own energy evolution and life force energy. You don't want to start structuring it once again. You don't want to start confining the energy. You want to select it and then flow with it. You want the energy and you doing this beautiful dance together.
< Embodiment 9 > They (belief systems) are activated, brought into reality, depending on your circumstance, depending on what is happening in your life, what is going on. You quickly bring them up. If you have a few quiet moments, you revert more to the high-level spiritual beliefs. But, even with all of those various belief systems, pulled in at various times to help you, you really wonder if you have any beliefs at all… if anything is out there at all… if this is all just a game… if any of this is real… if anything exists beyond this dimension.
< Embodiment 11 > So, let us talk a little bit about the physics of energy once again. As we said, energy does not exist. It does not exist in the heavens. There is no such thing called energy. There are no opposing forces of positive and negative. It is all just neutral potential, waiting to be activated. You activate it through your connection with the thing called "the field." Then, you bring it into various states of realities or dimensions. When you bring it to Earth, it is formed and shaped and controlled, then put to work for you. You can choose any set of potentials. You can choose it to have a positive expression or a negative expression, masculine or feminine. You are choosing.
< Embodiment 11QA > We give you a bit of riddle, a bit of an understanding here about who you are, who Spirit is. You see… Spirit was… and now is… and is… loves… and expands… loves to find joy in creation. Yet, in creation Spirit finds that everything is, and it always was (All that was). That will give you something to reflect on for a period of time. It is the basic understanding of Spirit and of creation. You see… Spirit is this dynamic energy that always was. It changed into "is" when it wanted to find out more of itself and to express itself through creation. But, it found creation simply is. Everything is there, and it always was there… you see. And, that is where you are at right now, Shaumbra. The synchronistic life: it already is, and it always was. It is allowing yourself to be the radiant Creator… always is… and always was. (was: potential / is: expression)
< Embodiment 12 > There is no energy. It doesn't exist. There is nothing but potential. "The field," the grid - whatever you want to call it - is nothing but potential in a neutral state of being, waiting to be activated by consciousness, whether it is group, family, or individual. The true source of all is in a neutral state of being, all potential, all neutral. It has no agenda… it has no desires… it has no movement of its own until it is activated by consciousness. When it is activated, it takes on attributes of energy. It takes on different types of balances of what you would call positive or negative, plus and minus, masculine/feminine… however you want to term it. But, it takes on attributes of duality. And, then it goes to work.
< Embodiment 12 > But, now in the New Energy, God (all that is/all things) is simply expression (of neutral poential/source). It doesn't need power. It doesn't even need the old negative and positive. Imagine and feel for a moment, existing and creating in your world that doesn't need to activate negative and positive. It doesn't need the Old Energy balances. It operates in a New Energy type of expression. You see, expression and force, or power, are two different things. We know we are dealing with semantics here. And, the English language sometimes is very limiting. But, imagine… feel for a moment operating in a synchronistic life where you don't have power. It is simply pure, clear expression. That is one very important thing to remember. God is not power. God is expression.
< Embodiment 12 > Clarity, yes, does call on you for your imagination. Imagination is simply the vehicle for creativity to be expressed. So, call on your imagination.
< Clarity 1 > Spirit is expression. It is a life energy, but not a life force energy. And, you are Spirit… you are Spirit. Those conversations you were having were with yourself, you see, all the time. Oh, it was indicative of the separation that you had between the human self and the spirit self.
< Clarity 1 > Before things are even brought into reality, before they are formed into matter, they exist on the invisible side. We don't want to say the other side of the veil; that wouldn't be accurate. But, they exist in a neutral state, sometimes directly in your third-dimensional reality base, sometimes outside of it. But, they exist in a potential. And, then they are all brought in, and brought to manifest. So, going back to the example of the chocolate, it is the ingredients. But, then let's go deeper. Yes, indeed, it is the atoms - we hear some of you saying - it is the molecules. It is all of these things that make it up. But, beyond that there is a whole other subset of structure. Similar, in a sense, to what the atomic structure will be to the physical universe, there is an energy structure of potentials.
< Clarity 1 > They (larger bubbles of potential) are attracted to what you are choosing in your life, and they begin to come in. Sometimes they will cluster all around you still in the state of potential, waiting for expression. Sometimes they will begin… they will come into Earth reality and begin turning into matter or opportunity or concept, and then finding their way to you.
< Clarity 1 > But, at the very core they were little bubbles of potential. They were energy - and we have to rechannel that - they were not even energy yet; they were potentials. And, as they were drawn to you, it activated them into energy. That energy then began to manifest itself. What was just potential in the chocolate then came through a very interesting and elaborate series of movements to get its way to you. At some point you requested chocolate, and it found its way to you.
< Clarity 1 > Saint Germain has talked to us recently about transmuting stones into gold. And, some of you went off and tried it. This is where he and I had a good laugh because you were trying to force; you were trying to literally push your way into transmutation. That is so Old also. It is about clearing your way. You see, within that stone is the potential of gold. Within that stone are all of the ingredients of gold. They just haven't been potentiated yet… you see.
< Clarity 1QA > All of our energies are interwoven. And, we're all back here right now to do a couple of things: a) was to awaken into a new consciousness. That was the primary mission of you and of Shaumbra: to awaken in this lifetime, awaken essentially in the cocoon and to emerge out of it. Then, from the awakening was to go through the release, to take structure off of Old Energy so that it could flow once again.

And, finally now we come into the third phase of our work as Shaumbra. And, that is to express and bring into reality all of the tools, all of the things we have learned together, to bring to Earth now the fact that you can live multi-dimensionally, to bring to Earth now that the human experience doesn't have to be filled with suffering and sickness and disease. And, it is so important right now to bring the concept to Earth that it is not about force anymore. New Energy is a non-force. We don't have to do this by preaching or evangelizing or trying to recruit. We do it simply by being.
< Clarity 4 > Our spiritual being has to be fed from something. Something has to sustain consciousness. So, even we are always bringing in things. Something is feeding us. Basically, if you want to the look at the physics of it, we are taking energy from "the field," which is neutral; in a sense, it doesn't even exist. We are "dualizing" it. We are then breaking it down into duality elements. We are shaping it into potentials. And, then that energy flows into - whether you are an angel, whether you are human - that energy then flows into your reality. It feeds you and sustains you. You are the one determining the vibration (Old Energy) or the expansional (New Energy) characteristics of that energy coming in that's feeding you. It's coming from the Source of All, coming into you. But, you are shaping it.
< Clarity 5 > There is a belief that you can only express one reality at a time; you can only choose one experience at a time. Some of you are already discovering - the rest of you will discover - you can express multiple probabilities, alternatives, whatever you want to call them simultaneously, to move in and out of those you feel are almost appropriate. It begins with giving yourself permission to be who you are. And, it continues by recognizing what feeds that reality, as we discussed in our Shoud last month.
< Clarity 5 > You say, "But is this just talk? How do I bring it out? Is this - how to say - just the imagination?" Absolutely! Through the imagination, through opening up your own set of belief systems, it (shadow potentials) can come in and be expressed. You will be amazed at what it can do for the body.
< Clarity 7QA > Too much in your head. Way too much trying to analyze this, trying to figure money out. As soon as you let go of trying to manipulate it and just become self-sufficient, it is there. There are too many Shaumbra now that have learned that. They would tell you the same thing. You have to let it go. You have to stop trying to push on it. It is just there. Energy abundance, energy manifestation and realization is a natural thing. It is unnatural to have lack. Look at how much work you had to do to create lack in your life. Now let that overlay go. It is just always there. Everything you need just comes in. It is such a simple principle but you all want to make it so complicated.
< Teacher 4 > Energy (potential) is in a generally neutral state and it can be activated by desire. It can be activated by passion or need or fear. But it is just in a neutral state waiting for you to activate it and do something with it. Energy that has been activated by individuals or groups at some point can be released from them, and it just goes back into its neutral state after a certain evolution or time progression. Other energies are activated and never released but rather put out into mass consciousness. Sometimes when these energies are not tended to they tend to go into a bit of a state of confusion. So we use the term "Order" meaning that we are bringing direction and we are bringing a specific motive to energy.
< Teacher 6 > The story comes around again, it is time for another journey. This time it is not about laziness and not about fear. This time it's about activating potentials previously unknown. It's about going beyond comfort zones, to be able to choose a new potential and to play with it. It is about taking the energy of collision - collision of old opposing energies - and being in that moment of creating new energy and new potentials beyond your wildest dreams. So Archangel Raphael comes in.
< Teacher 10 > Anything, any desire, any what you would call creative thought can be shot out of the Now into these other dimensions to the point that it appears that none of these exist anymore. You've lost your idea, you've lost your thought and as a human you may get frustrated. But what's happening is they're out. They are wandering, but not only wandering, they are zooming off to collect the energies, to collect the information, to collect the support, to come right back into the Now moment for you. It's kind of a boomerang effect. You throw it out there, it will come back - and when it comes back, it will look and feel different. It will tie into the energy of your gnost, your solution, and then the trick is making sure that you comprehend it. It's come back - all of the energies, the answers, have come back to the Now - but now you've got to recognize it. You've got to activate it.
< QuantumLeap 7 > When you take that breath of receiving, it activates. It activates all of the energies, and it works its way from consciousness into what you might call electrum ... energy ... energy that can then finally be brought also from the crystalline states. Crystalline states are the idea states activated by the choice of receiving. It comes from consciousness through crystalline (idea) through electrum and then into the material, into your known reality. It makes its way, if you choose, through the breath, very simply and very efficiently into your life. And then there is very little that you need to do.
< Master 2 > And then there's working with your Pakauwah, your animal totem. Now, some of you said, "Well, I've done that before." Not like this. Some of you say, "Well that sounds like we're going backwards," but in a way, yes, because you're familiar with doing it. But we're going to use it because that Pakauwah is going to go out and do work for you. When you're sitting right here, it can be out there doing work for you. It can be helping to energize potentials that are waiting for you. It can also be on surveillance. It can be watching other energy in the room right now.
< Master 3 > Working with your Pakauwah at times, working just like this at other times, go out to your potential. This is not the grid or the field for humanity or all creation; this is yours. Your potentials. They're out there. Right now by expanding the consciousness, we're unlocking, activating, opening up these potentials into your life. In the most beautiful and the most flowing way, these start coming back into the present, into this reality, into your Point of Presence, your Point of Choice, your Point of Actualization.
< Master 4 >

So this (=consciousness) is you. Consciousness uses energy. It calls on energy. It attracts energies to it based on its desires. It could be to know thyself, express thyself, play with thyself, learn for thyself, anything. But at a very deep inner level, it's calling on energy. Energy is basically potentials, probabilities that are sitting in a dormant place, neutral place. They're sitting over here in neutral land waiting to be called upon. Energy is motion and stimulation. Energy breathes life into consciousness. Consciousness, therefore, calls on this, brings it in and starts to use it. Quite simple.
< (Next) 6 > So breathe life into those potentials. Billions of potentials in your life, all lined up for you, created by you for you, waiting for you. You just haven't been aware of them. You've been aware of a very limited set of potentials. They're broad. Most people can't breathe life into their life. They don't want to, they're afraid of doing it, and quite frankly, if they did, it would cause such a tremendous tidal wave of change they would have a difficult time handling it without popping off the planet. But you, dear Shaumbra, can breathe life into life. It's called Sha-dhar.
< (Next) 9 > Potentials are not energy. Potentials are little flecks of consciousness. They're little pearls of consciousness floating around all out there. When activated by humans, by you, through clear and conscious realization, then those potentials draw energy to them, and then they bring that energy to life, kind of like a beautiful ball of consciousness now layered with very dynamic energy, and then they can be manifested or experienced here on Earth.
< freedom 1 >

Here is consciousness. This is you, souled being. The beautiful circle with a dot. Pretty soon you're going to inherit that dot. It's going to be your own. And no, that's not the original sin. That's your essence. Consciousness contains no energy. Energy was created out of the deep passion and desire to either go back Home or go into freedom. So now, consciousness, this thing that you already have that's awareness and all of your potentials – not that was given to you by anybody else, but you gave to yourself – this consciousness inspires energy. Energy is just sitting there. Neutral.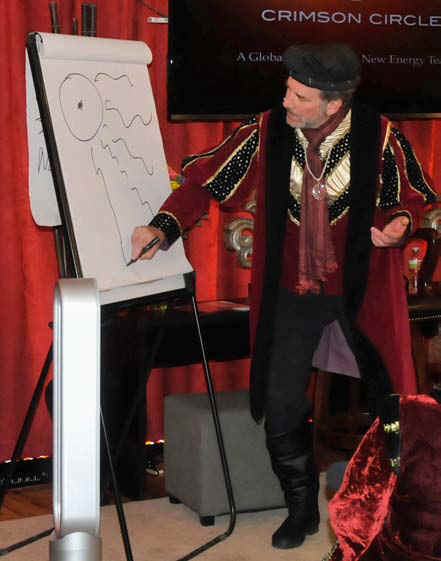 Energy is free to those who are free. That's another great quote. What's wrong with humanity right now? They're not free, so energy is not free. See, all this is really simple. Consciousness inspires energy, gets it out of its neutral state, and there's a lot of it. When consciousness is open and free, that energy is Just free and abundant, and it kind of just looks like the sun, it's just radiating. There's no control of it. It just is. It's very literal. Very literal.

Consciousness in its freedom will create anything it needs, wants, choose – cars, nice houses, any of that, any of that – and you should have it. That's the first reason. Second reason: If you're going to be a true Standard for others, Walk like a Master. You should have gold shoes on. Humans need to see that. You can have grand abundance. When are we going to do it? When are you ready?

So consciousness, when it's open, when it is free, the energy moves so easy. When consciousness is limited by beliefs, by the mind, by mass or group consciousness, when it is limited because of its fear of becoming free, what you have is very weak, little tiny spurts of energy, which account for a lack of abundance, lack of passion in your life, lack of friends, lack of self-esteem, all lack, lack, lack, lack, and the energy does not move. And then you wonder what's wrong.
< WalkOn 6 > This is timeless, what I call the Ineffable Moment, the Ineffable Presence. Ineffable means without description. No trying to quantify it. No trying to define it. Just floating. Not being pushed here or there. Just floating. The Ineffable Presence, the I Am, surrounded by this ocean of potentials that exist beyond time and space. That's what that water is – all potentials. It's also time and space, but it's very different than the river, because the moment you choose now to experience something, the moment you choose to be creative, the moment you choose to express yourself, suddenly that nonmoving water, that time and space, which is not moving, suddenly gets activated. Suddenly. Then it moves in absolute perfect response to your desire. But unlike the river, it doesn't just flow for an eternity. You can change it. You can move it. You can adapt it or it rather adapts to you the moment you choose something. And it's out of time and space.
< Transhuman 9 > You've got your consciousness, I Am, I Exist. From that comes such a passion. A passion. You know, when you really allow that feeling – "I Exist! Screw everything else." I mean, not "I exist because… I exist if…" "I Exist." It's the only thing that matter. It's the only awareness that's worth a damn. And when you really realize that, there comes such a passion. "I Exist!! Beyond the physical body, beyond all the crap, beyond my identity, I Exist!" That creates such a passion, an excitement – love is not quite the right word, but such an "Ahhh! Magnificence. I Exist" – that a light goes out. I mean, radiates forth, not goes out, but radiates forth. A light shines forth, and I'm talking metaphorically, but a light shines forth and that goes out into what you'd call a reservoir, a field of energy and attracts that energy, activates that energy and then it creates reality.
< Transhuman 9 > Free Energy. This is going to be so outrageous because you've been living, you've been addicted to positive-negative energy, pulling it in in different ratios. Sometimes you've got like 62 percent negative – not bad negative, just negative, you know – 62 percent negative over here and the other part is positive, and the ratios shift back and forth all the time but it's this constant inflow and outflow of activated energy. Activated meaning it's put into a bias of positive or negative. We don't need to do that, and it's so outrageous because nobody's ever done that on Earth before. Nobody's ever done that.